Latest BrutalCastings.com Updates
Sydney Cole
February 22, 2016
Sydney Cole, a true beauty with a great body, has model written all over her! That's why she sent her audition tape to the best talent agency, Teen Castings, and gets her dream interview. She'll do anything to get what she wants. Her potential agent wants to take a few photos of her in her underwear. When he tries to get her naked, becoming impatient when she doesn't listen, she grabs her clothes. So he makes it clear: If she doesn't do what he says, the door is feet away. Now, to even be considered, she must endure his love for BDSM, domination, rope bondage, deepthroat bj, fingering, squirting, spanking, slapping and deep penetration rough sex. When he's done cumming all over her face, she wastes no time asking, "Will I be famous now?".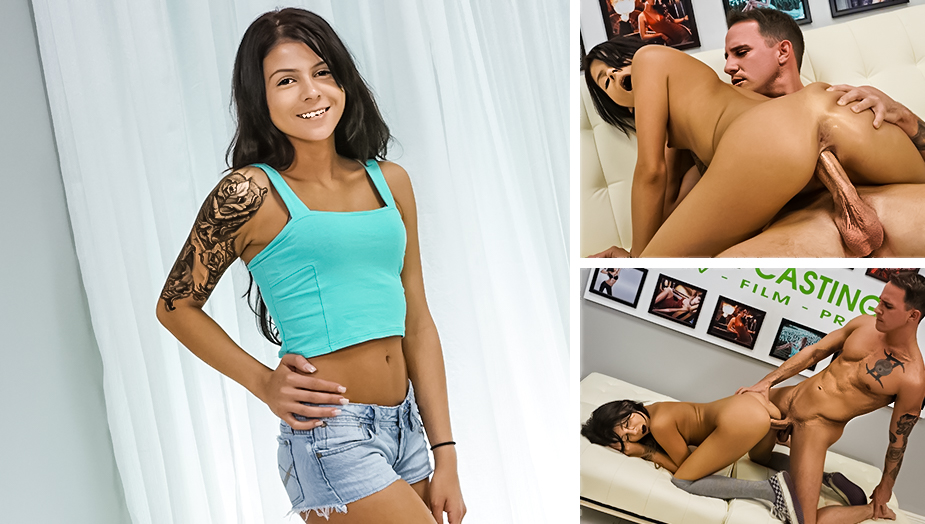 Pretty, petite and just 19, banging Brooklyn cutiepie Sadie Pop thinks she's got what it takes to make it big, big, big in the world of modeling. Bruno intends to find out on his casting couch, but this 5' 0" spinner is a little too shy for Master Bruno's liking when he asks her to strip down and show her girly goodies. What spoiled brat Sadie needs is sex slave training, and the best way to initiate that is systematic humiliation in every possible way until she submits her entire being to Bruno's cock. First, some rope bondage as her wrists are bound together and she is rendered helpless. She is now nothing but a cum dumpster. Having no other options, Sadie dutifully gives Bruno a deepthroat blowjob, tonguing down his hung cock pretty well for a novice. Rough sex is good for sassy teenagers like Sadie too, and Bruno gives her tiny body the fucking of its young life as he viciously ravages her slopholes in every position until he dispenses his thick sex curds all over her face. But does Sadie get the part?
Jade Jantzen
June 8, 2015
Perfect body, beautiful face, and a genuine sex freak, Jade Jantzen has it all going on! A truly rare gem in a field of fakes. After a poor audition at Master Bruno's casting couch, Jade finds herself on the business end of Bruno's cock giving him a deepthroat blowjob for all she's worth. You can see it in her eyes, she loves giving head, almost as much as she loves rough sex, rope bondage, BDSM, role playing and other sexual humiliation. Jade has numerous orgasms as she mounts Bruno's cock cowgirl style and rides it like she's taking a spin class, and these are REAL orgasms. Lots of loud moaning between the fucking and spanking and slapping. REAL passion and REAL pain. Jade's tiny shaved pussy gets hammered and fucked until her mascara is running down her face in long, black streaks. For her sins, and they are many, Jade gets a huge ribbon of cum spewed all over her face. Her face is glazed like a donut and her sex slave training is complete!