Latest BrutalCastings.com Updates
Sydney Cole
February 22, 2016
Sydney Cole, a true beauty with a great body, has model written all over her! That's why she sent her audition tape to the best talent agency, Teen Castings, and gets her dream interview. She'll do anything to get what she wants. Her potential agent wants to take a few photos of her in her underwear. When he tries to get her naked, becoming impatient when she doesn't listen, she grabs her clothes. So he makes it clear: If she doesn't do what he says, the door is feet away. Now, to even be considered, she must endure his love for BDSM, domination, rope bondage, deepthroat bj, fingering, squirting, spanking, slapping and deep penetration rough sex. When he's done cumming all over her face, she wastes no time asking, "Will I be famous now?".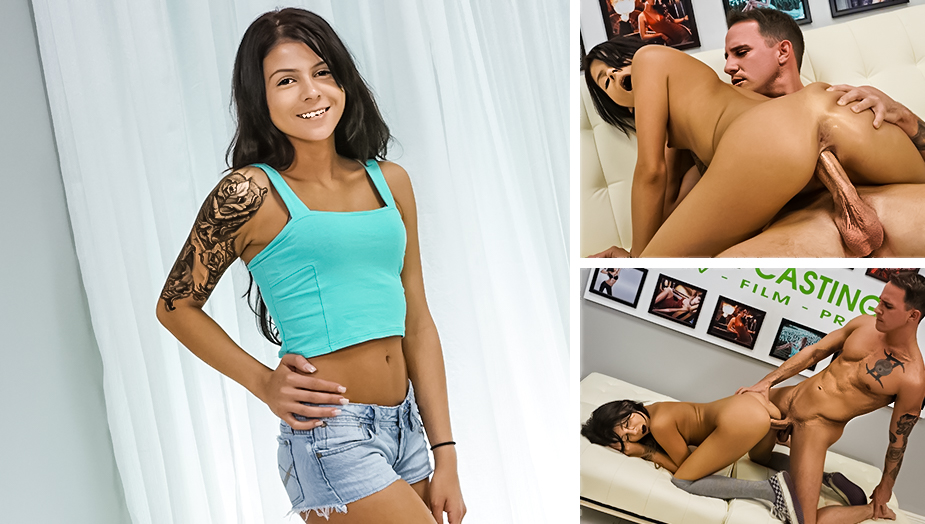 Pretty, petite and just 19, banging Brooklyn cutiepie Sadie Pop thinks she's got what it takes to make it big, big, big in the world of modeling. Bruno intends to find out on his casting couch, but this 5' 0" spinner is a little too shy for Master Bruno's liking when he asks her to strip down and show her girly goodies. What spoiled brat Sadie needs is sex slave training, and the best way to initiate that is systematic humiliation in every possible way until she submits her entire being to Bruno's cock. First, some rope bondage as her wrists are bound together and she is rendered helpless. She is now nothing but a cum dumpster. Having no other options, Sadie dutifully gives Bruno a deepthroat blowjob, tonguing down his hung cock pretty well for a novice. Rough sex is good for sassy teenagers like Sadie too, and Bruno gives her tiny body the fucking of its young life as he viciously ravages her slopholes in every position until he dispenses his thick sex curds all over her face. But does Sadie get the part?
Jade Jantzen
June 8, 2015
Perfect body, beautiful face, and a genuine sex freak, Jade Jantzen has it all going on! A truly rare gem in a field of fakes. After a poor audition at Master Bruno's casting couch, Jade finds herself on the business end of Bruno's cock giving him a deepthroat blowjob for all she's worth. You can see it in her eyes, she loves giving head, almost as much as she loves rough sex, rope bondage, BDSM, role playing and other sexual humiliation. Jade has numerous orgasms as she mounts Bruno's cock cowgirl style and rides it like she's taking a spin class, and these are REAL orgasms. Lots of loud moaning between the fucking and spanking and slapping. REAL passion and REAL pain. Jade's tiny shaved pussy gets hammered and fucked until her mascara is running down her face in long, black streaks. For her sins, and they are many, Jade gets a huge ribbon of cum spewed all over her face. Her face is glazed like a donut and her sex slave training is complete!
Sick of working at America's crummiest two-for-one pizza delivery chain, sweet, teen Liza Rowe sets her sights on a modeling career and a life of fine things, fame and fortune. Pretty little Liza wants it bad and plans on using her good looks to get it... just like every other lazy cumbucket who eventually ends up on our casting couch with big cocks in their mouths and a Walmart Rewards Card in their swap meet Louis handbags. Why? Because they don't want to work for it! Liza is verrrry cute and nicely put together, but she's reluctant to show the master her bare assets. That's okay, once she's got her hands bound with rope and is on her knees deepthroating his hard cock, Liza will understand how things really work. After the sloppiest blowjob ever and some BDSM domination, spanks and slaps, her real humiliation begins. Railed, plowed and pounded in doggie, cowgirl, reverse cowgirl and the other hardcore fuck positions, Liza takes the cum on her chin like the extreme teen sex slave she truly is. Model. Ha!
Dakota Vixen
May 25, 2015
"The dirtiest sluts on earth come from the southern United States and despite being called Dakota Vixen, this beautiful 19-year-old cum target is from Louisiana where she tends bar and longs for a way into the world of modeling and acting. What this heavily tattooed honey finds though is a big load of hot jizz at the end of the rainbow, but before her deserving face ends up glazed in baby batter, this super sexy brunette with big blue eyes and flawless tits has to be properly humiliated, dominated, degraded and transformed into a cock crazy sex slave the way it's done in Miami. Good thing for Dakota that she is a natural born fucktoy. Even with her hands tied with rope, she takes the baloney pony with ease as Bruno drills and fills her sex holes until they are completely busted. He wrecks this piglet. Dakota loves rough sex and her orgasm moans and cries are loud and verrrrry real. A masterful cumshot from Bruno's fleshy firehose seals the deal. "
Sophia Grace
May 18, 2015
There's nothing better than a 19-year-old, teen, submissive who loves the cock... except maybe an innocent teen who doesn't know she's going to get fucked rotten by a relentless Master. Such is the case with lovely young Sophia Grace who recently found herself in our offices attempting to cash in on her good looks for her shot at fame, wealth and a life in the spotlight. Sophia tells our agent Bruno that she is a third generation model and has everything it takes to become a big deal in the world of modeling, but that's for Bruno to decide. He has his own criteria to judge whether Sofia has that certain something... and that is complete domination through rough sex and humiliation. Sophia hesitates when she is asked to strip for some photos, so her hands are bound with rope and Bruno spits in her mouth and slaps her face in rapid succession. Hardcore deepthroat blowjob and finger fucking action follows, and then Sophia is fucked in all of the filthiest most degrading sexual positions until she's so high on dick she doesn't know whether to have a squirting orgasm or take Bruno's big chunky load on her lips. What is Sophia's choice?
Desirae Rose
May 11, 2015
Desirae is a very pretty, thick and curvy lifeguard who wants to leave the excitement of the Baywatch life behind to become a superstar model. Clearly, Desirae likes action, stimulation and excitement, and at 5' 8" and inhabiting a body like that, she most likely gets plenty of all three. She'll definitely get plenty when she comes in for her audition at Teen Castings, and a whole lot more and by "more" we mean rough sex. Desirae has a slammin' body, but is reluctant to let the master see it during the interview. He tells her the interview is over and that she will not be cast. Shocked and upset, she begs for another chance. Her attitude clearly needs adjustment, and a brutal BDSM style face fucking is just the ticket. Rope bondage is another good way to adjust a teen girl's attitude, so her wrists are tightly bound. It's really all about domination submission and humiliation, and Desirae's attitude seems to improve a little bit each time his cock slams into the back of her throat. Desirae needs to have her pussy pounded out too, but the master?s cock is so large she can?t take it. She begs for mercy over and over, but all she gets is a ball gag in her cumhole. When the master dumps a torrent of choad into her mouth, Desirae chokes it down with glee. Time to get famous!
Gina Valentina
May 4, 2015
So many teen girls, so little time to turn them all into sex slaves on our casting couch. Gina Valentina, a gorgeous 18-year-old from Orlando aka "Whorelando" finds herself living the dream auditioning at our booking office for her one shot at fame and stardom. Gina's certainly got the looks, a banging little body, and wow, that smile of hers can melt stone. Just one small problem though, she fights with the agent about getting topless for some shots in case he wants to book her for lingerie and bikini shoots. He explains the program to her again, and she finally drops her top to reveal her amazing tits. When Gina is asked if she will do anything it takes to get famous, she says "Yes," and before the remnants of the "s" sound leaves her lips, her face is slapped hard, and her hands are bound with rope and filled with the big hard cock of our agent. She is then directed to give him a blowjob and deepthroat the full measure of his dick the entire time. More hard slaps and spitting in her face and mouth lets Gina knows this isn't a dream, and then he smothers her with his junk bag. Gina's bid for fame concludes with a brutal doggie style fucking and the agent's hands in "prayer" grip going into Gina's cunt and fucking it until it's raw. A big cumshot in the silly slut's mouth ends her audition. Congrats Gina, you're a whore!
They should rename Orlando "Whorelando" because we get so many filthy sluts from there it's unbelievable, but not cute little 4' 11" teen wannabe model Skye West. She's no slut. She's a good girl who wants to be famous through hard work and determinatin... not by giving blowjobs to strange men. Riiiight! Wait until she's on our casting couch being shown the REAL path to fame. Entitled bitch thinks the world owes her a modeling career because she's pretty. Bullshit! All the world owes her is a fat cock to deepthroat, and that's what she gets when she hesitates to take off her clothes for some file photos. Her hands tied with rope and her face slapped, she is held by her hair as the master brutally fucks her mouth. This is humiliation Skye has never experienced before, but this is how all teen models get famous. Our agent asks her, "Do you want to be a model?" Skye says, "Yes!" Then the agent says, "Then model your tongue around my cock, you dumb cunt!" A hardcore four finger pussy penetration teaches Skye another valuable lesson - that she squirts when she orgasms - when properly dominated of course! Lots of rough fucking makes Skye cum several times, and a big load of hot jizz in her mouth ends the audition with an oral creampie. This is Skye's first rough sex scene, and we believe her career is off to a fantastic start!
Holly Hendrix
April 20, 2015
Tiny teen terror Holly Hendrix is a perfect example of modern American girlhood with her emerald green eyes, curly black hair, tattoos, pierced nipples, and voracious sexual appetite. Thank your lucky stars, for you are among the privileged few to witness this 18 year old Georgia Peach in her first ever fuck scene, and boy is it a rough one!!! Holly finds herself in the Brutal Castings office for an interview and photo evaluation, and it is awkward and difficult due to her apparent unwillingness to follow the master's instructions. The stunning 4' 10'' beauty eventually strips nude, but not without a few smacks for encouragement. If you like small and sexy girls, Holly was made for you... and she's a dirty, dirty little thing! The wise master knows Holly is a nasty fuckpig deep down, and he draws the cock slob out of her by tying her hands with rope and making her give him a brutal and humiliating deep throat blowjob that smears her eye make-up all over her face and cheeks. Her domination continues as Holly gets her sweet little pussy fingerfucked hard, forcing her to orgasm uncontrollably. Doggie style fucking is up next and sends Holly over the edge as the master stuffs a ball gag into her mouth to silence her moans and also ties a rope around her waist to use as a leash so he can slam his fat cock into her tiny pussy extra hard. Holly's little body and all of its tight teen holes are stuffed full of dick until the master summons a huge stream of cum into her open mouth signaling her total submission! A fantastic first scene, Holly! You're gonna' be HUGE!