Latest BrutalCastings.com Updates
Sometimes you knock a home-run out of the park on your first at bat in the majors, and that's just what Jade Dylan does on our casting couch on her first audition with us. They grow them real nice in Tulsa, where Jade is from, and there's more than a slight resemblance to Kourtney Kardashian going on with her. HOT! With that slamming body and positive attitude, Jade is going places, but her first stop is on the end of Sir Bruno's big ol' cock. Jade says it's her first time filming a sex scene, but you wouldn't know it the way she handles the rough sex and BDSM sex slave training. She must be the kinky one back home because Bruno makes her have an orgasm pretty quickly when he fingerfucks her. She seems to enjoy rope bondage too, and gives him the dirtiest first time deepthroat blowjob we've ever seen. Good girl. Jade takes the cum blast on her face like an old pro, and the thick jizz frosts the tip of her nose perfectly. Great job, Jade!
Tiffany Watson
July 4, 2016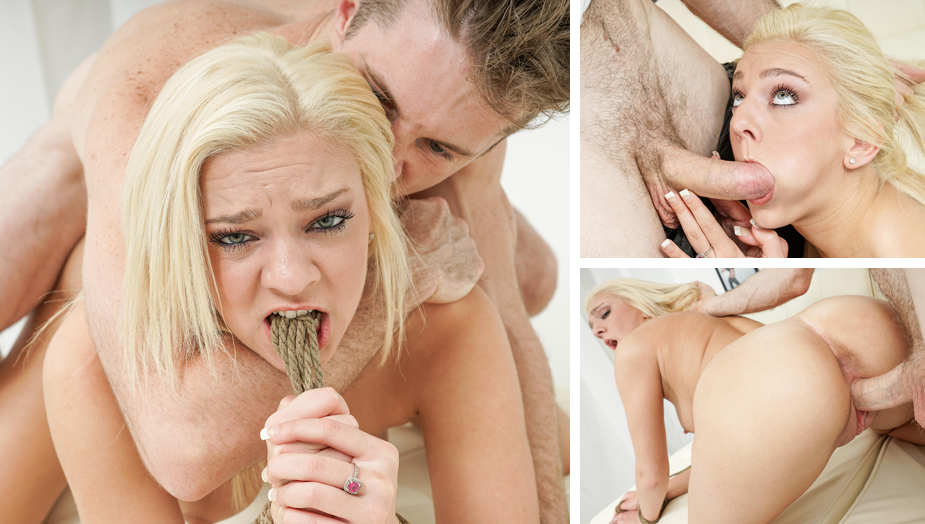 Blonde, pretty, fresh from the farm and full of natural curvy goodness, 19-year-old Tiffany Watson comes to our notorious casting couch fresh from the potato fields of Boise, Idaho. They grow 'em real nice in that part of the country, but Tiffany has dreams of fame and fortune in the big city and made her way into a meeting with Master Brick Danger. Well, it's really more of a "meating" actually, but you get the picture. Submissive Tiff gets smashed ten different ways before the party is over. Reluctant to show those awesome natural tits of hers and curvy hips, Brick has to take the upper hand and direct Miss Watson's utter, (or is that udder?), humiliation starting off by binding her wrists and jamming his big dick down her throat until she gags on it. After the deepthroat blowjob she gets spanked hard until her ass is bright red and raw. This only serves to get her excited for the vigorous rough sex training she receives over the next 40 minutes ending in a shower of squirt and a load of hot jizz on her face. This scene is hotter than a baked potato!!!
Scarlett Jennings
June 27, 2016
Extreme teen temptress Scarlett Jennings and her nice full tits and slick round curves find their way into Master Bruno's Miami casting couch from chilly Syracuse, New York. Blonde, 19-years-old, and with a head full of dreams, sweet Scarlett is about to find out exactly what it takes to make those dreams cum true! We'll give you a hint: BECOMING A SEX SLAVE! Bruno tells Scarlett she can't runway model with all her tattoos, but she can do nude modeling if she's not too shy. Turns out she is too shy, and that doesn't play with dominant Bruno. He likes his girls submissive, and if they don't take orders, he'll humiliate them with BDSM training until they do. He makes Scarlett beg for the job on her knees, and after some face slappings and ass spankings, Bruno takes off his necktie and puts it around Scarlett's neck and tightens it like a leash. Scarlett gives Bruno a gasping deepthroat blowjob, and he gives her plump bald pussy a frenzied fingerblasting. A hot rough sex session with missionary, cowgirl, reverse cowgirl positions ends Scarlett's orgasm audition with a frothy load of cum being fired into her mouth and face.
This one, showing off her beyond perfect body and beautiful face in our offices like she's some kind of a star. That kind of confidence is always rewarded on the old casting couch, NOT, and Kallie Jo from North Carolina with her sexy drawl and willingness to be fully sexually humiliated is transformed into a next level sex slave - the likes of which don't come around very often. Spanked, slapped, hands tied and made to perform a shocking and depraved deepthroat blowjob on our agent, black-haired, unspoiled with ink, and pale-skinned Kallie is a total feast for the senses, and high octane fuel for endless fap fantasies. Beauty and a body made for rough sex. What a combination. Watch her get worked over in every sex position in the book and then take the load on her face like a good girl. What a fucking babe!
"In search of fame and fortune, they never stop coming. They never learn either. Resisting the instructions of the Master is futile! Teen Mandy Sky is bright eyed and bushless, and she has journeyed all the way to Miami for her casting and sole chance at wealth and recognition, but as so many have before her, doesn't strip naked when she's old to. Now, what does one do with an insolent little tease like this? Bruno knows, and he starts by tying her wrists together with rope. He humiliates her as well, spitting in her face and making her beg for another chance while on her knees. He verbally abuses Mandy, slaps her face, and finally, dominates her completely with his fat, hard cock. He makes her give him a deepthroat blowjob and then fingerblasts her hairless muffin until she orgasms involuntarily. Bruno then pounds her with his big dick in doggie, cowgirl, spoon, missionary and reverse cowgirl positions before giving her a ginormous cumshot in her disobedient eyes. Maybe now, she'll finally see the light. "
Joseline Kelly
June 6, 2016
Some girls are super shy when they come to our offices for their first interview/audition, and while that kind of modesty is precious and all, there's no place for it in the world of Teen Castings modeling. Girls we represent, and that includes all the ones who've become famous, need to be able to handle any curveball that gets thrown their way. In other words, we have no place for conservative girls ashamed of their bodies. 18-year-old Joseline came to us from Hotlanta for her shot at fame and fortune, and even though she looks great and has a beautiful body, she lacked discipline, loyalty and obedience. Notice how we said "lacked," as in past tense. That's because our relentless master fixed her with his well honed BDSM skills. First, he tied her hands with rope and made her worship his cock and balls with a slow and sensual deepthroat blowjob. Next, he slapped her face hard repeatedly before he fucked it like a jackhammer, then he fingerblasted her into submission, making her assist, and finally, he hatefucked her pussy like it owed him money. Many orgasms later, (Joseline is loud when she gets railed), Master Bruno shot a gusher of cum on her face and in her mouth, and made her finish the interview with strands of cold jizz dangling off her cheeks and chin. Joseline loved every filthy bit of it!
Lizzie Bell, a bubbly teen from Kentucky comes to Teen Castings with the hopes of becoming the next big thing. Lizzie's from a small town, and girls from small towns always work harder than anyone else to achieve their goals. The agent gives Lizzie her chance to earn his respect, but she won't take anything off, so he can see what she looks like. The master ties her hands with rope and slaps her face until she comes around to his way of thinking and finally strips down. Humiliation and pain are very effective coaching tools and usually put the girls at ease. Giving a deepthroat blowjob also helps girls to relax, especially teen girls, and Lizzie can barely take the master's huge cock in her throat without choking. She works hard at it though, and gets that hog all the way down. The master decides to switch it up and spanks her naked pussy with the dirty sole of his dress shoe to get her ready for a deep four finger penetration, and he fingerfucks her until she squirts all over the casting couch. A hot fuck finale takes it all the way to the money shot. Lizzie takes a huge load on her face and leaves it there all the way through the post-fuck interview. We got a freshly made sex slave here!
Penny Nickels
May 23, 2016
They pile into our casting office every single day and then tell our agent they have no interest in nude modeling, or aren't comfortable taking their clothes off on camera. When will these little cum slobs learn that they have to go outside of their comfort zones and do whatever it takes to become famous? When? Well, Penny Nickles is going to learn that today, right fucking now! This petite 19-year-old looks like a deer in the headlights when it's time to show our agent the goods, and tries to stall the inevitable even further by offering to send her portfolio by the office later. The nerve. This loopy wannabe teen model may have come to us in the hopes of a life of luxury, fame and riches, but she's going to leave here a submissive, whimpering sex slave with a load of our agent's salty hot cum clinging to her chin like Santa's beard. Penny says she's a part time dog trainer, but the agent quickly turns the tables on her and shows her who the bitch in training really is with a brutal deepthroat fucking that leaves her gasping and dazed. Then he puts a gag ball in her slut mouth and pounds out her pussy like a chicken cutlet until he's about to cum. He pulls out and blasts his load all over her face and gag ball, removes it, and makes her eat all of the cum off of it. Do you feel famous yet, Penny?
Marina Angel
May 16, 2016
Super cute and verrrrry sensual, 19 year old Marina Angel is one of those girls that can only be found in small town America. She dreams of being famous and has a body built for sin, but doesn't know quite how to use it to get what she wants, so she ends up where all bad girls eventually find themselves... on J.B.'s casting couch in the Brutal Castings office. She tells J.B. she wants to model bikinis and lingerie, yet is unwilling to remove her tight denim shorts and shirt to show him her rocking body. No problem, J.B. is a master of humiliation, an impresario of submission, and a wizard at turning uptight prudes like Marina into cum-splattered sluts with his unique, proprietary blend of rough sex, rope bondage, role playing and BDSM. Marina gets the full treatment when she fails to satisfy the master and a super hard fucking to boot. First though, J.B. gets a deep throat blowjob despite Marina's braces, and she gets a forced orgasm fingerfuck in return before he slaps her face with his dick, spanks her ass, stuffs her panties in her mouth, and totally ravages her pussy in every possible position. Marina's submission is complete when his thick sex pudding is blasted into her eyes and on her face. Dream on, Marina!
Chanel Collins
May 9, 2016
Sweet, innocent, shapely and sexy all are perfect descriptions of cute, blonde teen, girly girl, Chanel Collins. Wishing to share her ample charms with the world, she finds herself in the offices of Brutal Castings where she will soon learn what it takes to make her modeling dreams cum true. Dressed to thrill in white short shorts and a tight blue tank top, Chanel is ordered to strip down to her bra and panties. She resists, but the master is persuasive, slapping some sense into her. Chanel strips, but takes too long for the master?s liking, so he ties her hands with rope and directs her to grope his cock through his pants. He roughly rips her panties off and shoves two fingers deep inside her tight teen cunt, making her to orgasm quickly. Chanel's humiliation continues as her pussy is viciously spanked while she deep throats his cock. After a hot, rough sex, airtight blowjob, he pounds her little pussy and luscious ass doggie style while using her head as a foot rest. Hard spanking on Chanel?s beautiful, tan booty assures her submission and then she gets railed reverse cowgirl style so we can see her swollen, over excited clit. The party ends with Chanel getting pounded in the piledriver position and receiving a massive load of love batter on her face. Will Chanel be famous? Find out!