Latest BrutalCastings.com Updates
Kendall Woods, Tiny and tamed
March 20, 2017
Petite ebony teen, Kendall Woods, would really like to model for Brutal Castings. She's a little latearriving to her audition, but Master Bruno's willing to overlook it, if she follows his commands. He thinks she may be hiding a body inside her flimsy top and jean cut-offs, but he needs to make certain. At his insistence, Kendall shows off her perky little tits, pierced nipples, big clit and round juicy ass! So good so far, slut. Now try posing on your knees! Like every good bitch should, Kendall follows Master Bruno's commands and quickly finds herself submitting to a brutal onslaught of BDSM and extreme rough sex. The action begins with Bruno ramming his thick cock down her tiny throat while slapping her face red and pulling her frizzy hair. Once he's done gagging her mouth he goes after her dripping wet tight teen pussy. Petite little Kendall gets pounded hard and deep in numerous positions. After brutally banging and spanking her to multiple orgasms, Master Bruno showers the exhausted little slut with a big messy facial.
Jamie Marleigh Clerk Gets Collared
March 6, 2017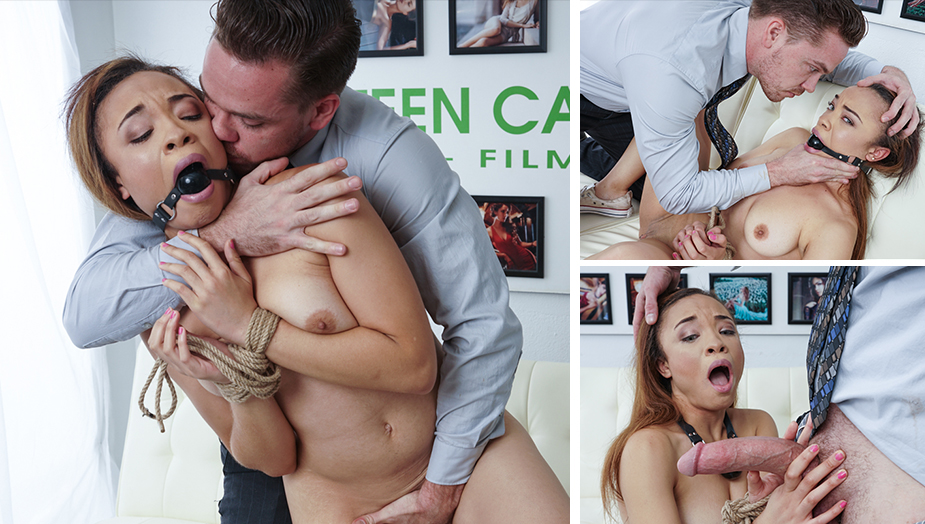 Cute black teen Jamie Marleigh thinks her retail job at a clothing store makes her a fashionista. She's sure that her bubbly personality and curvy little young body will land her a job with the world famous Brutal Castings modeling agency. Think again, slut! It takes more than a nice fat ass, perky tits and minor dancing skills to impress Master Kyle. You've gotta be willing to beg, be sexually humiliated and get brutally fucked. Poor young Marleigh quickly finds herself tied-up and gagging on thick cock as Master Kyle tests her dedication. He turns her nubile ebony pussy into a toy as he teases and fingers her to his hearts content. With her face down by his foot her new master viciously pounds her tight wet pussy from behind. Her big brown butt is made red from his brutal hard slamming and deep drilling as he fucks her in various positions. Several screaming orgasms later he ends the extreme rough sex in the best way possible, a massive facial cumshot.
Penelope Reed Face Down Ass Up Casting
January 16, 2017
Fresh out of high-school, 18-year old Oregon farm-girl turned model, Penelope Reed is very excited to be auditioning for Brutal Castings. This petite little Latina meets most of the requirements for the job; pretty face, nice tits, sexy nubile body, and a willingness to follow Master JB Rodeo's commands. Eager to impress her new Master, Penelope has little trouble posing for photos in her see-thru bra and panties and trying to do some naked twerking. Good start, but it takes more than that to make it in this business, slut! This obedient bitch gets quickly caught up in a vicious whirlwind of bondage, brutal rough sex, domination and humiliation. BDSM Master JB shows no mercy as he slams her hairy pussy hard doggie-style. The fish hooking, hair pulling, pussy pounding rough sex ride ends the only way it should for a slutty teen like little Penny, in a big messy facial cum shot!
Ally Berry, The Key to Success
January 9, 2017
Soft-spoken Colombian cutie, Ally Berry believes she has what it takes to be a model despite having no experience or training. Dressed like a bootylicous Baywatch beauty, she teases her curvaceous body to Master Bruno at her Brutal Castings audition, but blushes when she's asked to pose in her underwear. Models need to have open-minds and spread behinds! With some coaxing, Master Bruno gets her out of her comfort zone and her top. Her pert little brown tits and plump juicy ass look great on display, she might just have what it takes to be a model. Kneeling before him and begging, Master Bruno has her reach out for his "key to success" . In a flash, she has her wrists bound with rope and her mouth stuffed with his thrusting cock as he reminds her about "sacrifice" and ruins her makeup. Using his tie as a leash around her neck, Master Bruno pounds Ally's fat ass hard doggie-style. When he isn't battering her thick pussy with his dick, choking her or toying with her pierced clit, he's puts her to work riding him! Despite having her hands tied, this slut obediently takes him balls deep as she hurriedly bounces her big brown butt on his dick. Once he's finished testing her determination, Master Bruno rewards her hopeful face with some thick streams of cum.
Eden Sinclair
November 7, 2016
There always comes a time in a teen girl's life when she has to learn some life lessons, and while some of these lessons are simple and may even become pleasant memories, others can be, well... a bit more harsh. Little Eden Sinclair from North Carolina is learning one of the harsher lessons today, if not THE harshest lesson of her entire life. Eden is learning that when you want something bad enough, you must make some sacrifices to get it, and some of those sacrifices may be everything you hold sacred. When Eden arrives at the Brutal Castings Office for her audition, she quickly discovers that Master Brick Danger is in no mood to suffer her nervousness and humiliation about gettin'g naked, so that he can snap some pics. It's a good thing Sir Brick has a special way of "persuading" the young ladies who are slow to follow his orders through various BDSM tactics, rope bondage and role playing, and he quickly dials in Eden's naturally submissive nature. Her transformation from a stuttering teen wannabe model to a cum-soaked sex slave is a filthy and brutal series of sexual humiliations, domination and rough sex in a dizzying number of hot positions that leaves Eden totally ravaged and covered in thick swirls of Master Brick's hot cum.
Makeena Reese
October 31, 2016
There's been a lot of things said about Texas, some of it is even good, but there is one fact about the Lone Star state that cannot be disputed, and that is some of the finest looking women in all of creation hail from there. Makeena Reese is living proof of that fact. What a hottie, and when she finds her way to Master Brick's casting couch for her modeling audition, Brick can't wait to get her out of her super short shorts and role play her into giving up that sweet Texas pussy. She resists at first, but a bit of rope bondage and verbal humiliation changes her mind. What a body this soon to be BDSM sex slave unveils in our Brutal Castings office! Makeena, (who goes by Mickey), has fantastic tits, a beautiful ass and a shapely pair of legs that look great pinned behind her ears or up in the air as Brick hammers her slut fuckholes in a half dozen positions after she gives his fat cock a sloppy deepthroat blowjob. During the hot and filthy rough sex sequences, the reverse cowgirl and doggie style poundings are the dirtiest, Makeena has countless orgasms, but the only one that matters is the one Brick has before his massive load of jizz cascades onto Makeena's lovely wholesome face.
Madelyn Monroe
July 25, 2016
Sexy, blonde, Cali-girl wannabe model Madelyn Monroe finds her way into Bruno's office and right on his casting couch for an audition she will not soon forget. Of course she's late, because she's a blonde from L.A., and Bruno is NOT happy about that. Then, she refuses to get undressed and show him her slamming, sun-kissed, left coast body and large, perky natural tits. Bad call, slut! Now you're fucked! Actually, fucked is putting it mildly. Master Bruno dominates this pretty girly into total submission with rough sex, showing no mercy, especially when spanking her ass and pussy until both are bright red and swollen. A humiliating deepthroat blowjob starts the party, and Madelyn's wrists are bound with rope. Bruno makes her call him "Sir" and "Master" and spits in her mouth. After he ties his necktie around her neck like a leash, he drags her around the room and makes her masturbate in front of him while he spanks her pussy until it puffs up like a pastry. Then he gags her with duct tape and proceeds to brutally fuck her in several positions before stuffing six fingers in her cunt and gaping her pussy while she takes it all like a champ... or a pig. Then he finishes with a cum drizzling worthy of a Cinnabon training video on her face and tits. Awesomeness!
Amara Romani
July 18, 2016
We love humiliating these bright-eyed and eager to please girls fresh off the bus on our casting couch for some extreme teen bondage, orgasms and rough sex. Our Brutal Castings agent, Brick Danger, loves it even more, because he's the one that gets to brutally fuck the innocence out of them. Amara comes to us from cold ass Pittsburgh and hopes to start a career modeling clothes. Boring, right? Well, she's certainly got all the enthusiasm she needs, along with gorgeous blue eyes and a rockin' little body, but does she have what it takes to be transformed into an obedient sex slave at the hands of her master through his cruel and relentless domination? Let's all find out together. The scene begins with an interview and photo session that quickly goes off the rails when Amara refuses to strip naked and show Brick her goods. Brick tells her to go, but Amara says she will do ANYTHING to get the job. She shouldn't have said that, because Brick will test her resolve with the roughest sex imaginable, and even some new stuff we've never thought of. Check out the "Figure Four" leg lock Brick throws on her while she's choking on his cock. Amara spends most of this scene choking on Brick's dick, and the other half getting spanked, choked and slapped around like a rented mule. Super hot stuff!
Kacey Quinn
July 11, 2016
They grow pretty hot girls in Canada, and lovely Kacey Quinn is a living Nanaimo bar. Endlessly curvy, very pretty and with long, dark hair, Kacey hates her shitty life waiting tables. She dreams of being a famous runway model like Kendall Jenner and finds her way to our office and casting couch seeking fame, but our agent, Mr. Brick, informs Kacey that her height and tattoos will prevent a runway career. Kacey's dreams are dashed, but Master Brick can offer an alternative.... if she wants it bad enough. He tells Kacey to strip naked so he can take photos. She removes her dress, but refuses to take off her bra and panties. Kacey stalls him, wasting his time. Mr. Brick loses his patience, grabs her wrists and ties them with rope. Next, he pulls his big cock out and stuffs it into Kacey's frightened mouth, savagely fucking her face and making her give him a deepthroat blowjob. Oral humiliation and rope bondage is just the beginning. What bratty Kacey REALLY needs is brutal rough sex, BDSM, rough fingerfucking, involuntary orgasms... total submission! Hard doggie style pounding punctuated with hard spanks on her lovely round ass turn her buttcheeks bright pink. Kacey begs for mercy and squeals with a mixture of pleasure and pain as Mr. Brick hammers into her. A hot throat fuck finish leaves Kacey's entire face glazed with hot cum like a Tim Horton maple donut.
Kirsten Lee
July 11, 2016
Wish they all could be California girls! Especially when they're as naughty as 19-year-old Kirsten Lee. Oh, free-spirited guitar-playing Kirsten doesn't want to get naked on our casting couch, at first, but Master Brad systematically humiliates the little flake with every play in the BDSM handbook until she is transformed into a complete submissive, filled with cock in every hole, and splattered in hot cum. After making her beg for the modeling gig, he ties her wrists with rope and skull fucks her so he can get a good deepthroat blowjob. Next he slaps her face with his hard dick and his hand, and then finger ducks her with two fingers fast and hard. Rough sex means never having to stop, and Brad doesn't as he works over Kirsten's love holes and intermittently spanks her ass red. Kirsten is a loud and enthusiastic slave and has numerous orgasms that leave her breathless as Brad dominates her. Some very hot and hard missionary fucking is followed by doggie style and lively cowgirl and reverse cowgirl. The scene ends with Kirsten getting her face glazed with a massive load of Brad's cum.