NEWEST UPDATES:
Added: July 25, 2016

Description: Sexy, blonde, Cali-girl wannabe model Madelyn Monroe finds her way into Bruno's office and right on his casting couch for an audition she will not soon forget. Of course she's late, because she's a blonde from L.A., and Bruno is NOT happy about that. Then, she refuses to get undressed and show him her slamming, sun-kissed, left coast body and large, perky natural tits. Bad call, slut! Now you're fucked! Actually, fucked is putting it mildly. Master Bruno dominates this pretty girly into total submission with rough sex, showing no mercy, especially when spanking her ass and pussy until both are bright red and swollen. A humiliating deepthroat blowjob starts the party, and Madelyn's wrists are bound with rope. Bruno makes her call him "Sir" and "Master" and spits in her mouth. After he ties his necktie around her neck like a leash, he drags her around the room and makes her masturbate in front of him while he spanks her pussy until it puffs up like a pastry. Then he gags her with duct tape and proceeds to brutally fuck her in several positions before stuffing six fingers in her cunt and gaping her pussy while she takes it all like a champ... or a pig. Then he finishes with a cum drizzling worthy of a Cinnabon training video on her face and tits. Awesomeness!
Added: July 18, 2016

Description: We love humiliating these bright-eyed and eager to please girls fresh off the bus on our casting couch for some extreme teen bondage, orgasms and rough sex. Our Brutal Castings agent, Brick Danger, loves it even more, because he's the one that gets to brutally fuck the innocence out of them. Amara comes to us from cold ass Pittsburgh and hopes to start a career modeling clothes. Boring, right? Well, she's certainly got all the enthusiasm she needs, along with gorgeous blue eyes and a rockin' little body, but does she have what it takes to be transformed into an obedient sex slave at the hands of her master through his cruel and relentless domination? Let's all find out together. The scene begins with an interview and photo session that quickly goes off the rails when Amara refuses to strip naked and show Brick her goods. Brick tells her to go, but Amara says she will do ANYTHING to get the job. She shouldn't have said that, because Brick will test her resolve with the roughest sex imaginable, and even some new stuff we've never thought of. Check out the "Figure Four" leg lock Brick throws on her while she's choking on his cock. Amara spends most of this scene choking on Brick's dick, and the other half getting spanked, choked and slapped around like a rented mule. Super hot stuff!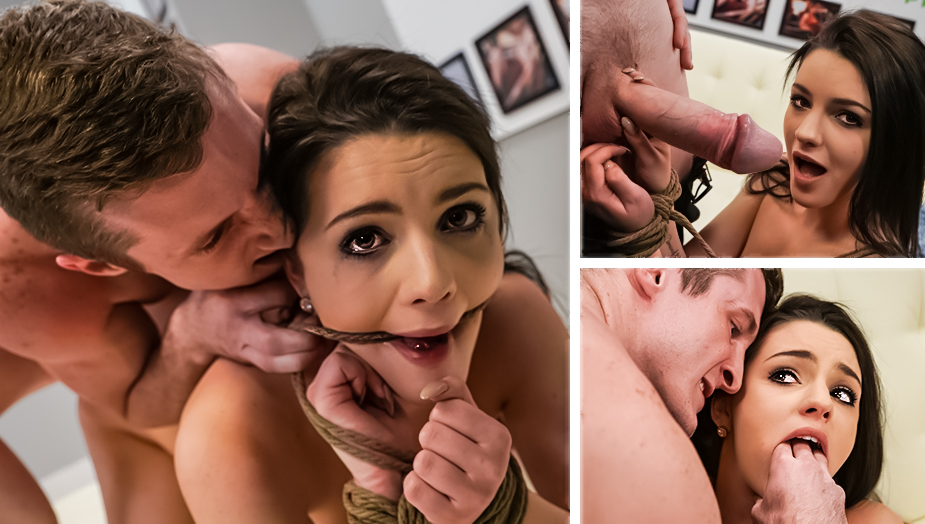 Added: July 11, 2016

Description: They grow pretty hot girls in Canada, and lovely Kacey Quinn is a living Nanaimo bar. Endlessly curvy, very pretty and with long, dark hair, Kacey hates her shitty life waiting tables. She dreams of being a famous runway model like Kendall Jenner and finds her way to our office and casting couch seeking fame, but our agent, Mr. Brick, informs Kacey that her height and tattoos will prevent a runway career. Kacey's dreams are dashed, but Master Brick can offer an alternative.... if she wants it bad enough. He tells Kacey to strip naked so he can take photos. She removes her dress, but refuses to take off her bra and panties. Kacey stalls him, wasting his time. Mr. Brick loses his patience, grabs her wrists and ties them with rope. Next, he pulls his big cock out and stuffs it into Kacey's frightened mouth, savagely fucking her face and making her give him a deepthroat blowjob. Oral humiliation and rope bondage is just the beginning. What bratty Kacey REALLY needs is brutal rough sex, BDSM, rough fingerfucking, involuntary orgasms... total submission! Hard doggie style pounding punctuated with hard spanks on her lovely round ass turn her buttcheeks bright pink. Kacey begs for mercy and squeals with a mixture of pleasure and pain as Mr. Brick hammers into her. A hot throat fuck finish leaves Kacey's entire face glazed with hot cum like a Tim Horton maple donut.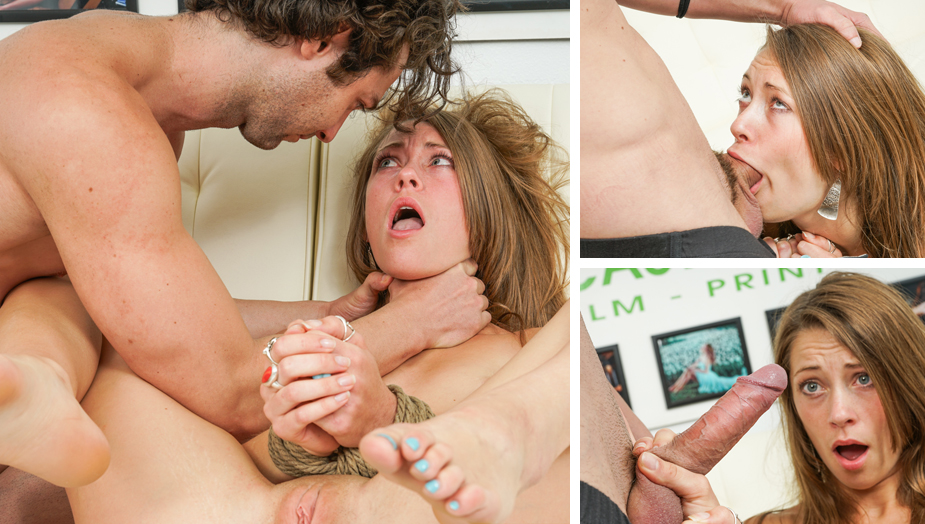 Added: July 11, 2016

Description: Wish they all could be California girls! Especially when they're as naughty as 19-year-old Kirsten Lee. Oh, free-spirited guitar-playing Kirsten doesn't want to get naked on our casting couch, at first, but Master Brad systematically humiliates the little flake with every play in the BDSM handbook until she is transformed into a complete submissive, filled with cock in every hole, and splattered in hot cum. After making her beg for the modeling gig, he ties her wrists with rope and skull fucks her so he can get a good deepthroat blowjob. Next he slaps her face with his hard dick and his hand, and then finger ducks her with two fingers fast and hard. Rough sex means never having to stop, and Brad doesn't as he works over Kirsten's love holes and intermittently spanks her ass red. Kirsten is a loud and enthusiastic slave and has numerous orgasms that leave her breathless as Brad dominates her. Some very hot and hard missionary fucking is followed by doggie style and lively cowgirl and reverse cowgirl. The scene ends with Kirsten getting her face glazed with a massive load of Brad's cum.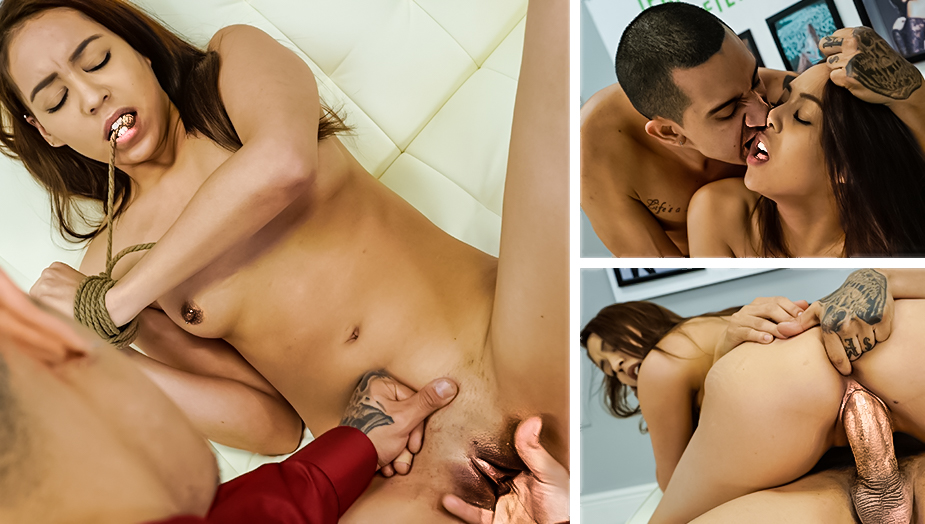 Added: July 4, 2016

Description: Sometimes you knock a home-run out of the park on your first at bat in the majors, and that's just what Jade Dylan does on our casting couch on her first audition with us. They grow them real nice in Tulsa, where Jade is from, and there's more than a slight resemblance to Kourtney Kardashian going on with her. HOT! With that slamming body and positive attitude, Jade is going places, but her first stop is on the end of Sir Bruno's big ol' cock. Jade says it's her first time filming a sex scene, but you wouldn't know it the way she handles the rough sex and BDSM sex slave training. She must be the kinky one back home because Bruno makes her have an orgasm pretty quickly when he fingerfucks her. She seems to enjoy rope bondage too, and gives him the dirtiest first time deepthroat blowjob we've ever seen. Good girl. Jade takes the cum blast on her face like an old pro, and the thick jizz frosts the tip of her nose perfectly. Great job, Jade!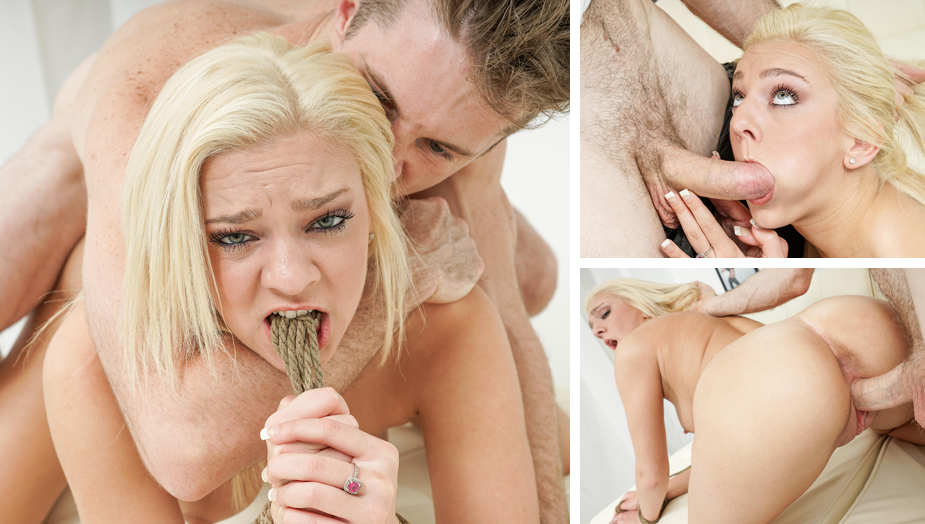 Added: July 4, 2016

Description: Blonde, pretty, fresh from the farm and full of natural curvy goodness, 19-year-old Tiffany Watson comes to our notorious casting couch fresh from the potato fields of Boise, Idaho. They grow 'em real nice in that part of the country, but Tiffany has dreams of fame and fortune in the big city and made her way into a meeting with Master Brick Danger. Well, it's really more of a "meating" actually, but you get the picture. Submissive Tiff gets smashed ten different ways before the party is over. Reluctant to show those awesome natural tits of hers and curvy hips, Brick has to take the upper hand and direct Miss Watson's utter, (or is that udder?), humiliation starting off by binding her wrists and jamming his big dick down her throat until she gags on it. After the deepthroat blowjob she gets spanked hard until her ass is bright red and raw. This only serves to get her excited for the vigorous rough sex training she receives over the next 40 minutes ending in a shower of squirt and a load of hot jizz on her face. This scene is hotter than a baked potato!!!